WORKING TOWARDS AN INCLUSIVE SOCIETY
NAHNOO is a research, capacity building and advocacy platform for participatory public policy-making, working towards an inclusive society in Lebanon. Our focus mainly revolves around three main areas of intervention: Public Spaces, Good Governance and Arts & Cultural Heritage.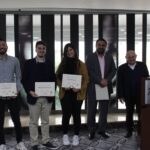 Horsh Beirut Competition Results
Nahnoo invites you, students and professionals (architects, landscape and urban designers, planners and other related environmental and urban design disciplines) to submit proposals for research, design and planning projects to unlock the potential of Horsh Beirut as a shared inclusive public space that will generate a sustainable and pedestrian friendly neighborhood.